Police and assembly election clash 'risks' warning by commission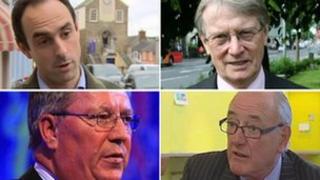 There are "significant risks" to holding the next round of police commissioner elections on the same day as the 2016 assembly election, a watchdog has warned.
Both votes are scheduled for the same day, but the Electoral Commission says the clash could cause confusion.
Voters would face different electoral systems and three ballot papers.
The first elections to appoint police and crime commissioners (PCC) last November were marked by voter apathy.
Just 15.1% of voters took part in England and Wales. At one polling station in Newport no-one turned out to vote.
In a report, the Electoral Commission says turnout is likely to be higher next time around because the elections will take place alongside more familiar polls.
However, the commission also lists hurdles that will have to be overcome if the elections for Wales' four PCCs are to run smoothly.
They are due to take place on the same day as the assembly elections in May 2016.
The report says: "In our view, there are some significant risks inherent in this particular combination of elections that will need to be mitigated for both sets of elections to be well-run."
Further legislation will be required so the polls can be combined.
The two elections have different voting systems. Police and crime commissioners are elected via the supplementary vote system, by which people select their two favourite candidates in order of preference.
At Welsh assembly elections voters get two ballot papers - one to elect local members in traditional first-past-the-post contests and another to choose regional AMs through a proportional list system by voting for a party.
Lack of awareness
Some assembly constituencies span local council boundaries while the South Wales police force area straddles three assembly regions.
The report says: "These differences may cause voter confusion and will also present challenges for political parties campaigning in both sets of elections and for those administering them."
There are different systems for appointing returning officers and the timing of counts will have to be juggled.
The commission found the most commonly cited reason for not voting in the PCC elections was a lack of awareness, primarily a lack of information about the elections and the candidates.
The decision not to provide funding for candidates to send out information about themselves in the post is described as "a mistake".
It says every household should receive a candidate information booklet next time.