PCS strike disrupts Welsh assembly on Budget day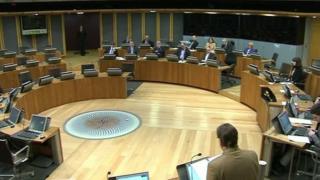 Welsh assembly members should give up a day's pay for staying away from the Senedd because of a strike by public sector workers, the leader of the Conservatives in Cardiff Bay has said.
Meetings were rescheduled because Labour and Plaid Cymru AMs vowed not to cross a picket line on Wednesday.
AMs sat for longer on Tuesday to get through the week's business.
The strike by the Public and Commercial Services Union (PCS) coincided with Budget day in Westminster.
The union was striking in a row with the UK government over pay, pensions and job losses.
In advance of the strike, a Welsh government spokesman said: "Ministers will be undertaking government engagements and dealing with any matters that arise throughout the day but will not be crossing picket lines."
AMs normally meet for one of their two weekly plenary sessions on Wednesday afternoons, but most business - including questions to ministers - was moved to Tuesday.
The decision was taken by the assembly's all-party business committee.
The only items tabled for Wednesday's plenary session were Tory motions that criticised the Welsh Labour government.
The session, attended only by Conservative and Lib Dem members, was chaired by deputy presiding officer David Melding, a Tory AM.
Presiding Officer Rosemary Butler, a Labour AM, was not present, despite telling AMs recently that attending assembly business should be their "top priority".
Tory assembly leader Andrew RT Davies said: "I can sympathise with the actions of the PCS Union which they wish to undertake, but frankly politicians are elected to represent the whole of their community.
"For goodness sake, this place only sits for two days a week in plenary."
He added: "Striking assembly members should consult their consciences very carefully and either give up their pay and pension contributions or donate them to charity."
It is not the first time strike action has disrupted the assembly. Labour and Plaid members also refused to cross a PCS picket line in March 2010 when the union was in dispute with the then Labour UK government.
Writing on Twitter, Plaid AM Simon Thomas said his party had supported the union, but that it should consider the needs of the assembly.
"Solidarity goes both ways," he said.
A meeting of the assembly's enterprise committee discussing the Active Travel Bill went ahead with four members in attendance, including Plaid Cymru AM Lord Elis-Thomas.