Good Morning Vietnam - Welsh Secretary's Budget Day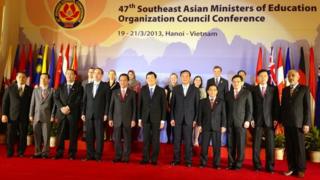 You may be wondering why Welsh Secretary David Jones was not among the cabinet ministers attending this morning's cabinet meeting in Downing Street.
I trust the Wales Office photograph above will put your mind at rest. Mr Jones (see if you can spot him in the back row) is continuing his (interrupted) tour of Asia.
The photocall was taken to mark the UK becoming an associate member of the Southeast Asian Education Association - Mr Jones (back row, second from the right) headed the UK's delegation to the council's 47th conference in Hanoi, Vietnam.
Mr Jones said the UK attracted 13 per cent of the international higher education student market, second only to the USA, and joining the association should help strengthen that position.
His Hanoi date means Mr Jones is spared the responsibility of explaining what the Budget means for Wales - a question I'll be asked - and asking - several times today.
The reality is that George Osborne's Budget affects everyone in the UK, wherever they live. Your personal financial circumstances and lifestyle - your income, driving and drinking habits - may be more relevant than where you live in discovering what the Budget means for you.
But aside from the impact on people in the real world, there is the impact on governments. The Welsh government will doubtless be disappointed, but hardly surprised, if the chancellor does not agree to reverse previously announced cuts in its budget although it is in line for a share of any extra funds for capital projects such as new transport schemes.
Much of the Welsh government's £14bn plus budget is spent on health. The UK government's decision to protect NHS spending usually offers some protection to the Welsh budget, although the Press Association reported yesterday that devolved governments would face the same 2 per cent cut (over two years) in their budgets.
This would be a departure from the way the Barnett formula usually operates - we'll find out whether PA are right when the Chancellor speaks at 1230 GMT.