Wales organ donation opt-out: Minister determined new legislation is passed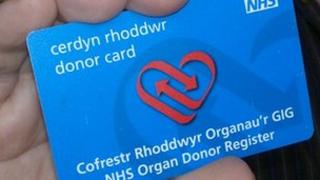 Wales' new health minister has said he is determined to ensure that legislation for a new opt-out system of organ donation is passed.
But Mark Drakeford said he will look to strengthen the Bill to ensure the role of the family is clearer.
He said the law would not "ride roughshod" over strong feelings by close family members.
The opt-out system would mean everyone is regarded as a willing donor when they die unless they state otherwise.
Mr Drakeford told BBC Wales he would "take very seriously the role of the family" and it was one of the most important issues raised by the public.
"Many people said to us that if people's views on organ donation are known, they have a a right to expect that those views will be the ones that will be operated on if you are in that very limited set of circumstances where organ donation might take place," he said.
"Having said that, it's very important for family members to know that if there are strong family feelings by people who are particularly close to that person that the law is not intending to ride roughshod over the strong feelings they would have."
"I want to make sure the law reflects that point of view."
Any changes would also make sure that clinicians felt they were on a firm legal footing, he said.
The assembly health committee is preparing to publish a report into The Human Transplantation (Wales) Bill later.
It follows weeks of evidence sessions.
Some AMs have said they wanted more weight given to the views of close relatives.
Legal veto
The Bill says that if a potential donor has not opted out, their next of kin can tell doctors about the wishes of the deceased.
The Welsh government is proposing to create an unranked list of relatives and friends who would have the right to be involved in decisions about whether to take organs.
Anyone on the list could provide information to clinicians if they can make a reasonable case that they know what the deceased would have wanted.
Where families do not know the deceased's wishes, he or she will have deemed to have consented.
This does not mean that donation will automatically happen because doctors will have a responsibility to consider the views of the family. However, the family will not have a legal veto to stop organs being taken.
At the moment, the current system gives more weight to close relatives.
Mr Drakeford took over from Lesley Griffiths as health minister in a reshuffle earlier this month.