Baroness Thatcher funeral: Fitting say Welsh Tories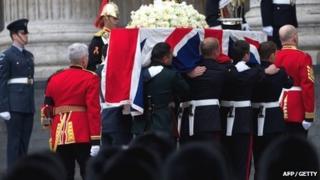 Senior Conservatives in Wales have described Baroness Thatcher's funeral as a fitting tribute to a "one of a kind amongst politicians".
Assembly group leader Andrew RT Davies described the turnout as both humbling and inspiring.
Lord Crickhowell, her longest-serving Welsh Secretary, said the service set the right tone.
And Welsh Secretary David Jones said the sermon was right to focus on her as the woman, mother and grandmother.
Lady Thatcher, who was Conservative Prime Minister from 1979 until 1990, died on 8 April, following a stroke, at the age of 87.
She was given a ceremonial funeral with military honours at St Paul's Cathedral, one step down from a state funeral.
More than 2,000 guests from around the world paid their last respects at the biggest such occasion since the Queen Mother's funeral in 2002.
Thousands of members of the public and the armed forces lined the funeral procession route through central London.
The Welsh Guards also played a prominent role in the funeral with two members commanding the pall bearers at the procession.
First Minister Carwyn Jones, assembly Presiding Officer Rosemary Butler and Welsh Office ministers Stephen Crabb and Baroness Randerson were among representatives from the Welsh political arena.
Ms Butler offered her condolences to Lady Thatcher's family after what she called "a very dignified service".
She said: "As presiding officer and figurehead for the National Assembly for Wales, it was right for me to represent the institution at the funeral of a former serving British prime minister."
Conservative assembly group leader Mr Davies said the turnout for the ceremony was "remarkable" on an "historic day in memory of an extraordinary woman".
He added: "The huge numbers we saw lining the streets was extremely moving, and a fitting tribute to a woman who was one of a kind amongst politicians.
'Disagreed vehemently'
"It is absolutely right that we have commemorated Prime Minister Thatcher with dignity and fanfare, properly marking the passing of a truly great leader."
Labour-run Cardiff council cabinet member and former council leader Russell Goodway said he was pleased the day had passed without being disrupted by protests.
He said: "The difficulty that all of us have with Mrs Thatcher that disagreed with her - and I disagreed with what she did vehemently - is that my peers kept voting for her on three successive elections.
"She persuaded the people to her argument and that deserves some recognition and respect.
"And the fact she was the first woman to rise to top of the most class-conscious parties in the world, that deserves some recognition and respect as well.
"She devoted her life to doing what she believed was right to improve the quality of the life of the people that she led, the fact that I think that she made some major mistakes is beside the point."
Small protests did take place against Baroness Thatcher in Cardiff and Wrexham on Wednesday evening with about 50 people at each gathering.