UKIP 'on course for Welsh seats' says MEP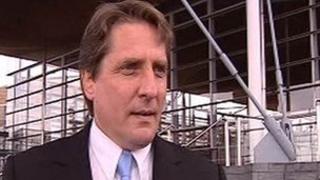 The UK Independence Party's Welsh MEP believes his party is capable of taking seats in elections in Wales.
John Bufton told BBC Radio Wales that opinion polls suggest that if a Welsh assembly election was around the corner UKIP could take "a number of seats".
He said that "on the ground" the party was getting more members in Wales and the party is already focusing on next year's European elections.
Mr Bufton said voters "from all parties" were turning to his party.
UKIP, whose main policy is for the UK to leave the European Union, gained about 25% of votes in the council seats it contested in England's local elections on Thursday.
Mr Bufton said UKIP had also done "very well" in the council elections on Anglesey, although it failed to win a ward.
Speaking on BBC Wales' Sunday Supplement, Mr Bufton said the party had taken between 4,000 and 4,500 votes on the island.
'All parties'
"It's a slightly different case on Anglesey because of the independents but also the election there was delayed by a year due to issues with the council, so you shouldn't compare like-for-like with England," he said.
"Had there been elections in the rest of Wales we'd have seen a number of councillors elected in Wales."
The party was doing "quite well" in Wales and a recent opinion poll suggested if a Welsh Assembly election came before long - the next is due in 2016 - "we'd take a number of seats".
He added: "On the ground we're getting more members, we're going in the right direction."
He said the party appealed to people from all parties, people who had "got tired of other parties" and "want a change".
Despite UKIP faring better in elections which use the proportional representation (PR) system, Mr Bufton said the local elections in England had shown that they could make an impact under the "more difficult" first past the post system too.
'General election 2015'
"I can see us getting MPs in the near future, in the next by-election or soon after and I certainly think we'll be taking seats at the general election in 2015."
When asked whether the party should be looking as the 2016 assembly elections where the PR system is used he said that UKIP would "take each election in turn".
"We have a manifesto for the European election drawn up, then one for the general election then the Welsh one will follow on after that.
"We're going to stand a full set of candidates in the general election in 2015, that's important to us," he said.
"We've got to keep up the momentum and I think we can do that."
Speaking about UK politics he said that "people on the ground" wanted a referendum on Europe now, not "three to four years down the road".
He said his party "may look" in a few years at exploiting a possible split on the right in Welsh politics over the issue of devolution.
"[Welsh Conservative leader] Andrew RT Davies' problem is that the policies are made in London by David Cameron so while he can discuss things happening in two to three years time what people are telling us is what's happening now."
Foreign Secretary William Hague said UKIP was the current "vehicle for the protest vote" but the UK government had to make sure it got its message across.