Welsh NHS: Opposition unite for fight, says Tory leader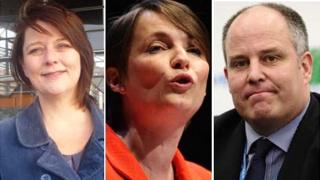 Opposition parties in the Welsh assembly will pull together to fight against plans to change hospital services, says the Welsh Tory leader.
Andrew RT Davies said Tories would unite with Liberal Democrats and Plaid Cymru against the Labour Welsh government.
He said there was an opportunity to create a "working atmosphere" between the parties.
It comes after they forced ministers to back down over council executives' pay.
As Labour has only half the seats in the assembly chamber, the Welsh government needs the support of its opponents to win votes in the assembly chamber.
The three opposition parties this week threatened to block a piece of legislation that was designed to reform local democracy.
The bill now seems likely to pass after ministers gave way to opposition demands for an independent panel that will oversee the salaries of local council senior officials.
The three opposition parties have previously presented a united front against the Welsh government's budget, and Mr Davies said they were likely to work together again in the future.
A potential flashpoint could arise over proposed NHS shake-ups, with controversial plans to downgrade some hospital units and move services.
First Minister Carwyn Jones has said that changes are essential to ensure the Welsh NHS's "safe and sustainable future".
Compromise agreement
But Mr Davies said that despite more plans to work together, there were still political differences between his party, the Welsh Lib Dems and Plaid.
"There are opportunities there in the legislation and the political programme [to work together] but we must recognise also there are huge political differences in our DNA," he said.
The deal to tackle council executives' pay between Welsh ministers and opposition parties came following concern that some senior officers have been able to award themselves large pay rises.
In Caerphilly, the way the council's chief executive was given a pay rise was declared unlawful by a spending watchdog in March.
Following the agreement, the Welsh government said: "A compromise agreement has been reached on an amendment on the issue of local government senior officer pay."
Plaid local government spokesman Rhodri Glyn Thomas said that while the new independent remuneration panel would not "end the competitive market in top salaries", it would "bring in a new layer of accountability".