Leighton Andrews rebuked for Royal Glamorgan campaign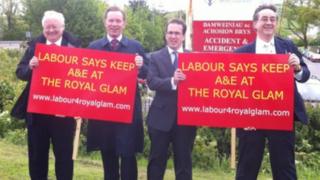 First Minister Carwyn Jones has slapped down one of his cabinet ministers for a campaign to protect hospital services.
He said Education Minister Leighton Andrews was ordered to remove references to the Labour Party from a website protesting against planned changes to A&E at the Royal Glamorgan Hospital in Llantrisant.
Mr Andrews has claimed A&E could "disappear" from the hospital.
But health officials insist that will not happen under their proposals.
Mr Jones said "it would not be correct" to say that any A&E unit will close or disappear under an ongoing hospital reconfiguration process.
Neither he nor his party condoned the use of Labour's name in connection with the campaign, he told journalists in Cardiff on Monday.
Five local health boards are jointly proposing to concentrate some specialist services in south Wales, including consultant-led A&E, on fewer sites.
A website which went live on the day the proposals were announced, called labour4royalglam, has since been taken offline and replaced with a site called campaign4royalglam which does not use Labour's name or logo on its homepage.
Shadow Welsh secretary Owen Smith, the MP for Pontypridd, has also backed the Royal Glamorgan campaign.
Rhondda AM Mr Andrews is seen as a key ally of Mr Jones and ran his successful bid to become Welsh Labour leader in 2009.
Speaking at his monthly news conference, Mr Jones said: "It's important the party's name is not used for any campaign - that has been made very clear, but assembly members are able to make representations regarding the programme board but of course it shouldn't go beyond that."
Pressed on whether he was "comfortable" with the Labour 4 Royal Glam campaign, he added: "That is something that as a party we cannot condone, nor did we.
"It's exceptionally important that the public understand that Welsh Labour is not campaigning for or against any hospital. It's for individual assembly members to make their views known."
He confirmed that he had "discussions" with Mr Andrews on the issue and that cabinet ministers had to operate "within certain tramlines" when it came to the hospital reconfiguration process.
Mr Jones faced derision from opposition politicians last week after he attacked comments by Plaid Cymru leader Leanne Wood on the future of A&E services at the Royal Glamorgan as "misleading, untrue and wrong".
Responding to the comments about Mr Andrews, Plaid health spokeswoman Elin Jones said: "As has been made very clear by the first minister's comments today, these proposals to remove vital hospital services are wholly within the remit and control of this Labour government and we agree that it is wholly disingenuous of Labour AMs to suggest otherwise.
"Plaid Cymru stands firm in its commitment to fight for safe access for local communities to core services such as consultant-led A&E and maternity at all district general hospitals."