Edwina Hart wants better focus on EU handout spending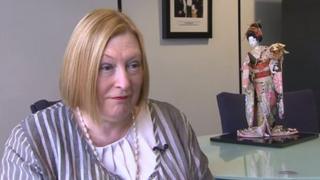 Wales must be much more focussed in future about how it spends European money than it has been in the past, Economy Minister Edwina Hart says.
She wants the private sector involved and says Wales must not have "pet projects with hundreds of partners".
Wales has been given £3.5bn since 2000 in so-called structural funding from the European Union.
The money is given to nations whose productivity is less than 75% of the average across the European Union.
Wales is expected to be eligible for the money again and Ms Hart says it must be spent on projects that will deliver results for the welsh economy.
In an interview with BBC Wales, she said Wales needs to sell itself as a "small, clever nation" to boost its economy.
And she said the Welsh government cannot be averse to taking risk if it wants to attract more inward investment and innovation.
Ms Hart says a review is under way to devise models to fund new businesses and also raises the issue of whether community groups could run green energy companies to give the nation energy security and generate profit locally.
'Flat on your face'
"We are trying to place ourselves as a small clever nation and looking at the areas which we think will be the future in terms of the development of the economy," said Ms Hart.
"You have got to know where you need to be in a few years' time in the market."
Speaking before leaving for a trade visit to Japan, she said it was important Welsh government continue to listen to Welsh companies and experts to help decide where the future lay.
"As long as we are prepared to take their advice and take the risks on their advice then I think we will be successful," she added.
But rather than gambling on one big idea where "you could fall flat on your face" she said she preferred to look for several "little ideas" to "cover my bets".
One concern is the effect of the UK government's spending review on 26 June could have on Welsh firms amid concern the Ministry of Defence faces a budget cut.
Ms Hart said: "We have a lot of defence businesses in Wales, very successful ones, very high-tech that we work a lot with and are very content to have here.
"Once the MoD has its budget cut and it looks at what it is going to buy in terms of equipment that has a knock-on effect."
She said she didn't think that decision makers thought enough about the consequences of such decisions have further down the chain, impacting on supplier companies which, in turn, affect the communities in which they are based as well as their employees.
The minister said while the Welsh government had a duty to support its indigenous companies it also needed to sell Wales abroad.
She is on a trade mission to Japan until 16 June and is also due to visit Russia this year.
Ms Hart said a visit to Los Angeles earlier this year to promote Wales' film and television industry had led to a number of new business leads.
"We should be selling Wales globally, getting what we can and also at the same time supporting Welsh industry's indigenous companies," she added.