Ynys Mon assembly by-election: Four on Labour shortlist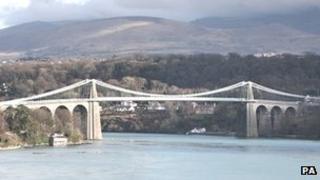 Labour has selected a shortlist of four to be its candidate to fight the Ynys Mon Welsh assembly by-election.
They are Julia Dobson, Daniel ap Eifion Jones, Tal Michael and Paul Penlington.
Local party members will select the candidate on Saturday for the poll, prompted by former Plaid Cymru leader Ieuan Wyn Jones's decision to stand down.
Mr Jones is leaving the assembly to lead the new Menai Science Park. The poll will be held on 1 August.
Julia Dobson is a teacher and Daniel ap Eifion Jones has worked for several charities.
Tal Michael, a former chief executive of North Wales Police Authority, was Labour's candidate in the election for police and crime commissioner in north Wales last November.
Denbighshire councillor Paul Penlington is an FE lecturer and previously worked for a children's charity.