Caerphilly stand-in chief executive could get same pay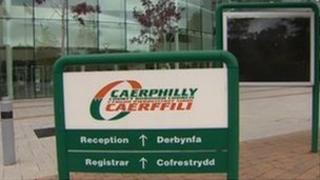 A temporary replacement for a council boss suspended in a row over executive pay rises could be paid the same salary which sparked the dispute.
Caerphilly chief executive Anthony O'Sullivan and his deputy have both been suspended as police investigate pay rises for senior staff.
There were widespread protests when Mr O'Sullivan's pay increased from £127,653 to £153,071.
The interim chief executive is to be paid between £142,524 and £158,360.
An advertisement says the successful applicant is expected to be needed for six to 12 months.
Mr O'Sullivan and deputy chief executive Nigel Barnett have been questioned by Avon and Somerset Police amid claims "secret" pay rises were awarded to 21 senior council bosses.
'Challenges'
Police were called in after a Wales Audit Office (WAO) report said the council had acted unlawfully.
Mr O'Sullivan's pay increase led to protests by staff and trade unions and an apology by Labour councillors on the authority.
Caerphilly, like other local authorities, is having to make millions of pounds worth of cuts and staff have had their pay frozen for three years.
The council reversed the decision in January and cut Mr O'Sullivan's pay rise to £5,000.
As a result, WAO said it had decided not to seek a court ruling.
The advertisement says the council "faces specific corporate challenges" and is "working with our external auditors in relation to improving our corporate governance".