Anglesey assembly by-election enters its final stages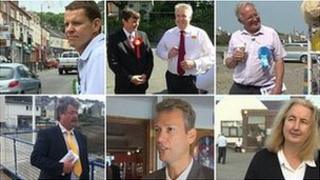 Jobs and investment for Anglesey are in the forefront of the final days of the Ynys Mon assembly by-election campaign.
Candidates are criss-crossing the island as they make their final appeal to voters to be their new AM.
Labour, Conservatives, Plaid Cymru, Liberal Democrats, UKIP and Socialist Labour hope to replace ex-Plaid leader Ieuan Wyn Jones, who has stood down.
The poll on Thursday is the first by-election to be held for a Welsh assembly seat in seven years.
With the issues of the economy and jobs occupying the minds of many voters, the candidates have spent much of their time laying out where they stand on proposals to build a replacement nuclear power station at Wylfa.
But it has been by no means the only talking point.
A Labour victory would give First Minister Carwyn Jones an outright majority in the Senedd, while a poor performance would raise concerns about the party's prospects of hanging on to the parliamentary seat at the next general election.
Hoping to prise the island from Plaid Cymru's grasp in the assembly, Labour candidate Tal Michael is emphasising jobs.
He says his vision is to make Anglesey the "Opportunity Island" where "our young people can find long-term sustainable employment, where prosperity is nurtured and where our language and culture is protected".
"As your AM, I would fight for these jobs and for this investment," he said.
Mr Michael contested the election for a new north Wales police commissioner last year, and was the former police authority's chief executive.
Encouraging enterprise
The man with the mission of retaining Ynys Mon for Plaid Cymru at assembly level is Rhun ap Iorwerth, who has stressed the economy as his "number one priority".
"Too many young people leave Anglesey to find work and never return - we can't afford to lose any more of our young talent from the island," he said.
The need for "innovative, concrete measures" to strengthen the local economy and protect jobs has been one of his key messages.
A former BBC Wales presenter, he is also championing "buy local" policies to help small businesses get more public sector contracts.
Support for small firms also figures highly on Conservative Neil Fairlamb's list of objectives.
He says encouraging "enterprise and initiative", as well as "community action and volunteering", for example in street markets or mentoring projects, would be key aims if he was elected.
The Rector of Beaumaris, Rev Fairlamb was a Conservative candidate in the island's local election in May.
"As an ex-teacher I want to prioritise education to develop skills relevant to our young people so they can get good jobs locally," he added.
'Cutting waste'
UKIP candidate and businessman Nathan Gill also stood in the Anglesey local elections.
He is calling for what he calls the "job tax" of employers' national insurance to be removed or reduced to help small businesses develop so "Wales can wean itself off its dependence on public sector jobs".
"UKIP will cut the waste in Cardiff Bay," he said.
"I will go there to give Anglesey a strong voice and route out and expose such waste and let you know what is being done in your name and with your money.
"What is more, UKIP opposes completely the EU's open door immigration policy, which has resulted in over 800,000 British jobs being advertised on an EU website to the unemployed across Europe, with a a €1000 [£860] grant to pay people to attend the interview here."
Liberal Democrat candidate, sub-postmaster and Gwynedd councillor Steve Churchman believes a house building programme could bring more jobs and create and safeguard local businesses.
Speaking on a BBC Radio Wales debate programme on Sunday he said: "I think we need to see a partnership between the Welsh government, between local authorities, housing associations and so on to find the investment to build new properties."
Mr Churchman also believes Anglesey could benefit greatly if more is made of the opportunities offered by tourism.
"It brings lots and lots of money in every year to the island - it could bring more, if we have joined up thinking, targeted at the foreign tourists, the high spending tourists [who] put money into our local economy.
Kathrine Jones, the Socialist Labour Party candidate, says she has spent much of the past few weeks "defending public services".
A regular election candidate since 1997, from the early 1980s she was also part of the Greenham Common women's peace camp against American cruise missiles at the former RAF base at Aldermaston in Newbury, Berkshire.
"I would, if elected to the assembly, oppose public subsidies going to private companies who take the money and then relocate," she said.
"I would work to put such subsidies into local employment and community projects to directly employ local people."
The polls will be open from 07:00 to 22:00 BST on Thursday, with the result expected in the early hours of Friday morning.