No Welsh NHS winter strategy, claim Conservatives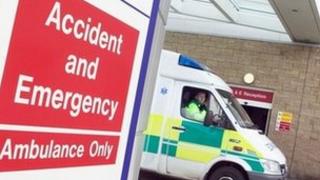 The Conservatives have called on the first minister to publish detailed plans to help the Welsh NHS deal with this year's winter pressures.
Measures to reduce immediate and long-term pressures on emergency departments in England were announced on Tuesday.
Shadow Health Minister Darren Millar said a Welsh strategy was "desperately needed" but "glaringly absent".
Welsh ministers said they had been working since March to ensure "robust" plans are in place for the winter.
Mr Millar said UK ministers had "a clear and early plan" to deal with winter pressures in England and First Minister Carwyn Jones should explain why he lacked "the same vision and action for Wales".
'Breaking point'
"It is here where problems in emergency departments are at their most severe, yet it is here where a plan remains glaringly absent," Mr Millar said.
"Winter pressures are unavoidable - but their impact on a Welsh NHS already at breaking point will be catastrophic.
"A strategy to deal with the challenges of the coming months is desperately needed and I urge the Labour government to support NHS staff and publish a detailed plan without further delay," he added.
The Welsh government said it rejected "any suggestion" the Welsh NHS was "lagging behind" in preparing for winter pressures.
In statement it said "We have been working since March to ensure every health board has a robust plan in place for the winter period.
"Earlier today, the health minister (Mark Drakeford) was at a winter planning event at which health boards, the ambulance service and social care bodies met to set out and discuss their plans for the winter ahead.
"We expect these plans to demonstrate rigorous bed capacity planning based on anticipated demand, robust workforce planning, and escalation arrangements to cope with spikes in demand.
"We will continue to monitor and challenge the robustness of plans for winter over the coming weeks.
"This process will be supported by daily emergency pressures conference calls attended by all health boards, the ambulance service and Welsh government."