Welsh 'unfairly' paying more for electricity claims MP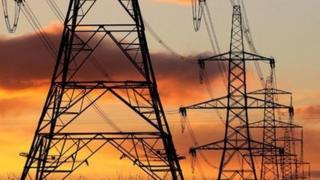 Welsh consumers are unfairly paying more for electricity than other people in the UK, a north Wales MP has said.
Ynys Mon MP Albert Owen, who is on the energy and climate change committee, told BBC Wales the cost of distributing electricity should be re-examined.
The average bill for homes in north and south Wales was £503 last year, according to UK government figures.
The Energy Networks Association said areas with rugged terrain or sparse populations could be more expensive.
North and south Wales were the most expensive regions in the UK after Northern Ireland.
Speaking to the Welsh language programme Y Sgwrs, Mr Owen said: "If we have a national grid, we want it to work for all of Wales and across Britain. It's unfair to places like Wales which produce energy and pay more for it, in businesses and in every home in Wales."
Nine distribution companies run the networks that connect homes and businesses to the National Grid.
They include Western Power Distribution in south Wales and SP Energy Networks in north Wales.
Underground cables
The cost of running the network is agreed with Ofgem, the energy regulator, and passed onto the suppliers who bill customers.
About a fifth of a household bill goes towards the networks costs, which include regional distribution and the high-voltage transmission system operated by National Grid.
The Energy Networks Association, which represents distribution companies, say rural areas with rugged terrain can be more expensive to operate in, as can sparsely-populated areas.
Laying cables underground to protect areas of outstanding natural beauty can also increase costs, it says.
Mr Owen said: "[Energy companies] say distribution costs and they have to pay towards the national grid, but I'm asking National Grid to be more open and say why.
"We have to re-examine this because the cost is going up and up, and it's important in the future that when we change to wind or something else, we have to have a more fair system."
A spokesman for the Energy Networks Association said operators were investing and that costs were were predicted to "level off or indeed fall" over the next decade.
Y Sgwrs is broadcast on S4C at 21:30 GMT on Wednesday