Carwyn Jones argues case against Scottish independence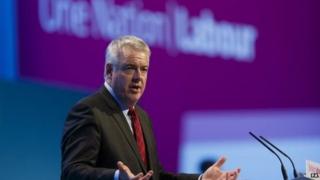 First Minister Carwyn Jones has called on Scottish voters to reject independence and stay in a "strong UK".
Mr Jones defended the union as a "positive choice" in next year's referendum in a speech in Edinburgh.
He said he thinks a "lasting devolution settlement" is the better option for Scottish voters.
But the SNP said Mr Jones wanted changes to the way devolved governments are funded which would harm Scotland if it voted No in the poll next September.
Mr Jones had warned he could not defend the union while UK ministers' response to the Silk Commission on the devolution of financial powers to Wales was not forthcoming.
But the Treasury responded to the commission's proposals on Monday, announcing Welsh ministers would get tax-varying powers, the full devolution of business rates and early access to borrowing powers.
But Chief Secretary to the Treasury Danny Alexander said Welsh ministers would not be able to vary individual income tax bands, even after a referendum, meaning changes to the basic rate would have be made in tandem with changes to the higher rates.
In his speech, Mr Jones said: "I genuinely hope Scotland does not break away because that decision would affect the whole of the UK.
'Uncomfortable'
"Devolution is the right framework to express our aspirations as a nation within the UK'".
The first minister said there as a Welshman to express his view "in a spirit of fellowship, as a friend of Scotland."
Raising the issue of sterling, he said he was not convinced a shared currency would work from the Welsh perspective.
The SNP has said that, in the event of a Yes vote in the independence referendum on 18 September next year, Scotland would retain sterling as part of a currency union.
Mr Jones said: "I would be uncomfortable being part of a currency union where there are competing governments trying to run it."
He said a currency union without strong fiscal controls would create uncertainty and slow down decision-making, making the risk to Wales and Northern Ireland far greater
He added: "In short, our shared currency is the clearest possible example of where we are stronger by collaborating and pooling risk in a highly uncertain world."
However, the SNP has said it would be in the interests of the rest of the UK (rUK) to create a sterling zone.
It has said that option would provide a much more stable system, as opposed to seeing Scotland adopt sterling unilaterally, free from constraint from rUK.
Speaking before departing for the Wales, Scotland and the UK Conference, Mr Jones said: "While independence is not on the agenda in Wales, we are following the debate in Scotland with interest.
"This is an opportunity for me to set out why I believe a strong Scotland in a strong UK is a positive choice in next year's referendum."
But SNP MSP Linda Fabiani said: "Carwyn Jones has never been shy about his desire to change the Barnett formula in a way that would disadvantage Scotland.
"The Welsh first minister has the perfect opportunity to use his visit to Scotland to spell out to people here just how much he wants Scotland's budget cut by if there is a no vote next year.
"The fairest solution for everyone is for Scotland to gain full control over our own tax and spending decisions and only a Yes vote next year will secure that for people in Scotland."