Autumn Statement: £100m more for Welsh government over two years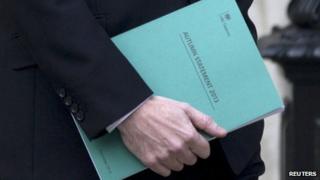 The Welsh government is to receive around £100m extra over the next two years as a result of plans unveiled in the chancellor's Autumn Statement.
The cash is despite Whitehall departments facing further cuts of £1bn a year over three years.
UK ministers said it was "further proof" of their commitment to providing "sustained economic recovery" in Wales.
But the Welsh government said it had "done little to change the challenging public finance outlook".
The modest rise in Welsh minister's budgets is because English school and health spending have been protected.
The figures announced by the Treasury are in cash terms and make no allowance for annual rates of inflation.
During his 50-minute speech to MPs, George Osborne confirmed UK ministers were entering a "cooperation agreement" with Hitachi and Horizon, to agree an "in-principle guarantee" by the end of 2016 to support the financing of a new nuclear power plant at Wylfa on Anglesey.
Plans to increase the pension age and confirmation that overall welfare spending is to be capped were among other key announcements likely to have a big impact in Wales, with its ageing population and large number of benefit recipients.
The state pension age is to increase to 68 in the mid-2030s and 69 in the late 2040s.
Next April, payments to current pensioners will rise by £2.95 a week.
Welsh Secretary David Jones highlighted plans in 2015 to abolish National Insurance Contributions (NICs) for under 21-year olds and introduce a married and civil partners tax break, allowing people to transfer £1,000 of their income tax allowance to partners.
Such measures, he said, along with moves to cut energy bills and extend Jobcentre Plus training and apprenticeship services to 16 to 17-year-olds, demonstrated ministers were "helping hardworking people in Wales by making a real difference to the cost of living".
Welsh Liberal Democrat leader Kirsty Williams said ending NICs for under 21s would help cut youth unemployment in Wales.
"This will make it over £500 a year cheaper to employ an under 21-year-old earning £12,000," she said.
"Our economy is growing because of the hard work of people and businesses throughout the country - the measures outlined in the Autumn Statement will further help small businesses across Wales."
Welsh government Finance Minister Jane Hutt said that after three and a half years of budget cuts, the statement had "done little to change the challenging public finance outlook for Wales".
"Overall, the scale of revenue reductions is significantly less than those we faced in the last Autumn Statement.
"However, when the reductions and increases are taken into consideration there is marginal change to our budget allocation for 2014-15 and 2015-16, but there is little additional resource available to support our priorities."
"We remain committed to doing everything we can to help people in Wales managing tough household budgets with rising costs, and we will continue to support people in the best way we can," she added.
'Struggling'
Plaid Cymru warned Mr Osborne's continued austerity programme would damage economic prospects.
Party treasury spokesperson Jonathan Edwards said: "Despite some positive projections, we are concerned that this growth may not be sustainable in the long term, due to huge cuts to vital public services and investment still to come, and rising levels of personal debt.
"Many ordinary families, especially in Wales, are largely untouched by this slow recovery and still struggling with daily living costs such as food and fuel whilst their wages fall."