Law giving Wales new financial powers is published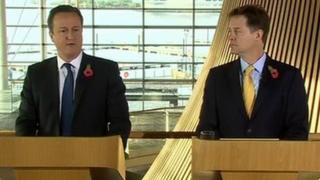 The UK government has set out how it plans to give Wales new powers to tax and borrow, in a draft law.
The draft Wales Bill would give ministers in Cardiff control of stamp duty paid by homebuyers in Wales.
It would allow the Welsh government to borrow money for major projects, such as building new roads and hospitals.
The bill paves the way for Welsh ministers to be able to vary, within limits, income tax rates - but only following a referendum.
Control of landfill tax would also be devolved.
As the draft bill was published the Treasury's limits on the new borrowing powers were revealed.
The Welsh government would be allowed a maximum of £1bn - £500m in capital spending and £500m for day-to-day expenditure on public services.
Welsh Secretary David Jones said the draft legislation would "enable devolved governance in Wales to become more accountable and better able to support economic growth in Wales".
"I am keen to drive forward these reforms, which is why I have published this bill so quickly," he said.
"Through this bill the government will deliver an ambitious package for Wales.
"However, it will be up to the Welsh government to seize the opportunity to drive forward Wales's economic growth with the powers being offered today."
Welsh Finance Minister Jane Hutt said an "important milestone on the journey towards a better financial settlement for Wales" had been reached.
"The draft bill proposes that Wales will be granted the power to borrow up to £500m for investment purposes.
"That is a good start, but in my discussions with the Treasury over the coming weeks I will be pressing for a higher borrowing ceiling," she said.
"So far as tax devolution is concerned, I am pleased that both landfill tax and stamp duty land tax are to be fully devolved.
"This will enable us - for the first time - to set tax policy in areas of devolved responsibility in line with the needs of Wales."
The new law will make changes to the way assembly members are elected, reversing a ban on election candidates standing in both constituencies and on regional lists.
AMs will in future serve five-year terms, rather than the current four years, and be prevented from "double-jobbing" as MPs.
'In-fighting'
The changes follow the publication of a report last year from the Silk Commission, set up by coalition ministers, which said the Welsh government should have new tax and borrowing powers.
Plaid Cymru said UK ministers had "cherry-picked" from the commission's recommendations, accusing Conservatives and Labour of "in-fighting" and "putting narrow self-interest" before the needs of Wales.
Plaid's parliamentary leader Elfyn Llwyd added: "Wales will only get substantial investment powers if an income tax sharing arrangement between the Welsh and UK governments is implemented.
"If the Labour Welsh government does not press ahead with securing this arrangement then Wales will lose out on vital investment."
At the moment, Wales' devolved administration cannot vary taxes or borrow money, and gets its budget in a grant from the Treasury.
Although the legislation is only in draft form, the UK government hopes it will become law before the general election in May 2015.
It will now undergo detailed pre-legislative scrutiny by MPs on Westminster's Welsh Affairs Committee.