NHS Wales chief executive David Sissling to stand down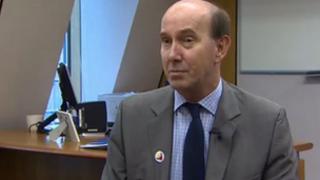 The chief executive of the NHS in Wales is to stand down at the end of March.
David Sissling will move to a role with the health service in the East Midlands, close to his family home.
He said he had mixed feelings about his decision, because the health service faces "continual challenge and change".
His departure was announced by the Welsh government permanent secretary, Sir Derek Jones, who will now work with health minister Mark Drakeford to appoint a successor.
Mr Sissling, who joined the Welsh government in 2011, said: "This has been a very difficult decision for me and not without mixed feelings.
"There is never a perfect time to leave any role, particularly in the health service which faces continual challenge and change.
"I am very proud of what we have achieved in Wales over the last three years with the introduction of new legislation, much-needed service change and an increasing focus on the safety and quality of care we provide to patients."
Mr Sissling is leaving as the performance of the NHS in Wales is coming under increased scrutiny.
A controversial programme to re-organise hospital services across Wales has yet to be finalised and the Welsh government is under increasing political pressure over rising waiting lists.
Making the announcement, Sir Derek Jones said: "David has been an extremely important member of my senior team and I will miss his personal support as well as the tenacious commitment and huge experience he brought to this very demanding job.
"My priority now is to ensure we continue providing the best possible support to the health and social services minister, Mark Drakeford, throughout the transition to a new chief executive and I will be discussing arrangements for the appointment with the minister in the coming weeks."
Conservative AM Darren Millar, shadow health minister, said Mr Sissling had "always been extremely co-operative".
He added: "It is important that the health minister ensures that NHS Wales has the right leadership in place to plot a path for our health service through the challenges ahead, support hardworking staff, and deliver the improvement in performance that we so desperately need."