Six firms named 'anchor companies' to work with Welsh government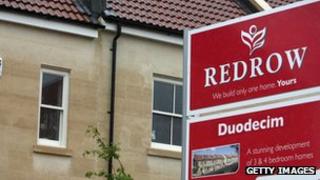 Six businesses have been added to a list of major companies that are deemed important for increasing jobs and growing the economy.
There are 38 so-called anchor companies - global or international organisations with headquarters or a "significant corporate presence" in Wales.
Anchor firms such as Tata and Airbus work with the Welsh government on economic issues including job creation.
JCB and house builder Redrow are among the new names.
In 2013, 39% of private sector employment in Wales was provided by large enterprises - those with 250 or more employees.
There are also a number of companies in specialist areas such as pharmaceuticals and medical supplies which are major businesses in their fields.
The six new companies - Flintshire-based Redrow, Boparan Holdings, JCB, Ortho Clinical Diagnostics, SPTS Technologies and Packaging Coordinators in Powys - cover key Welsh government sectors including life sciences, construction and advanced manufacturing.
Economy Minister Edwina Hart said: "I am pleased to announce that we are further consolidating and building partnerships with these six new anchor companies.
"They are all important employers in Wales and are vital to creating growth in their respective sectors.
"I am focused on ensuring that we continue to support all anchor companies across Wales, growing their jobs and wealth to the benefit of the Welsh economy."
Ministers have identified a total of nine specialist sectors they feel are vital to future prosperity.
Tata Steel in its written evidence to the Welsh Affairs Select Committee said: "In Wales the 'anchor company' status has played a major part in securing valuable support from the Welsh government for some key initiatives."
These include partnerships in research and development, and training with education bodies.
Anchor companies sit alongside "regionally important companies" and other economic initiatives such as the seven enterprise zones and two city regions.
Some have argued that these economic tools could be simplified to make it clearer how they interact with each other.