Welsh Tories will be stronger after sackings, says leader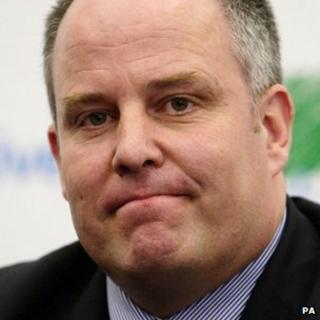 The Welsh Conservative leader has said he hopes the party will emerge stronger, after he sacked four shadow cabinet members last week.
Tory AMs met for the first time on Tuesday since four rebelled against Andrew RT Davies in a vote on devolving tax.
The party leader answered reporters' questions in a briefing beforehand.
Mr Davies said: "Ultimately we will walk forward from this a stronger and, if you like, a more united party."
Nick Ramsay, Antoinette Sandbach, Mohammad Asghar and Janet Finch-Saunders were dismissed from the shadow cabinet last Wednesday.
Mr Davies defended his leadership of the group, saying there had been no shortage of policy ideas and solutions to the problems facing Wales over the past two and a half years.
Listening to concerns
Issues within the group would be resolved by talking, listening to concerns, and taking them on board, he added.
Conservative assembly member Angela Burns said her local association had supported her stance backing her leader.
The rebels disagreed with Mr Davies over his policy on devolving income tax, which is in contrast to the policy of the Conservative-led UK coalition government.
Two of them had said they could not support a position which went against the views of David Cameron.
But in a briefing on Tuesday, Mr Davies said it was not the first time the Conservative assembly group had disagreed with UK government policy, citing examples over rail electrification and the closure of the Newport passport office.
'Immediate challenge'
He said: "We are committed as a group of 14 to making sure we deliver a strong Welsh Conservative message in the run-up to the assembly election, the run-up to the general election but, more importantly, on the face of it, the European election.
"That is the immediate challenge, that's what we're up for and that's what we're going to carry on working to do."
In answer to a question about how he would resolve issues within the group, he said: "Basically by talking, working together and listening to what people's concerns are and taking those concerns on board, something which I've done for the first two and a half years and I will continue to do.
"But, as I've said, opposition politics is very different from government politics."
On Sunday, Mr Davies admitted in a BBC Radio Wales interview there had been internal divisions in his party in the two and a half years since he became leader.
Last Friday, BBC Wales understands, there were emergency talks by the Welsh Conservative board, in charge of the day-to-day running of the party, on the sacking of the shadow cabinet members.
It is understood the conference call was arranged to allow members to express "concern and anger" at Mr Davies's actions.
A senior figure said there was no support on the board for Mr Davies.