Tony Benn: Welsh tributes to Labour stalwart after death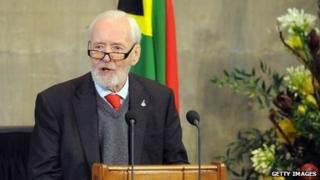 Welsh politicians have paid tribute to former cabinet minister and veteran left-wing campaigner Tony Benn who has died at home at the age of 88.
Wales' First Minister Carwyn Jones said Benn would be remembered as one of Britain's most prominent politicians, an "inspiration to many".
Neath MP Peter Hain called him a "giant of socialism" who encouraged him to join the Labour party in 1977.
Plaid Cymru's Leanne Wood said Mr Benn was a "champion of working people".
Mr Benn became an MP in November 1950 and served in the Cabinet under prime ministers Harold Wilson and James Callaghan, who had been Labour MP for Cardiff South.
A major figure on the left of the party, he narrowly missed out on the deputy leadership in 1981 and went on to be a popular public speaker, anti-war campaigner and political diarist.
He openly supported the miners during the 1984 strike, including urging consideration of a general strike in support of the miners.
And he chose the hymn Gresford - relating to a mining disaster in Wrexham - when he appeared on the BBC Radio 4 Desert Island discs programme, calling it a "beautiful piece of music and accepted all over this country as a symbol of the miners and their sacrifices".
Mr Benn received an honorary doctorate from the University of Glamorgan in June 2011 for his work as an author as well as a politician.
Carwyn Jones said: "He was a man of great principle who worked tirelessly in the world of politics all through his adult life.
"Even when he stood down from the House of Commons, he remained active and was an inspiration to many who believed passionately in social justice.
'Total inspiration'
"I am sure he will be missed by those across the political spectrum, and my thoughts are with his family."
Cardiff West MP Kevin Brennan said Benn was a "compelling and spellbinding speaker" and a huge figure in the Labour party.
"Just last week, I was talking to his daughter Melissa, who was down for a conference in Cardiff in my constituency, and also, of course, his son Hillary who's a Labour MP and speaks on local government issues for the Labour party.
"Melissa's a great campaigner on education, so his light is living on, if you like, in his children and in his family."
Mr Hain said: "The older he got the more radical Tony Benn became, more socialist preacher less politician: a remarkable, inspiring person to so many."
Messages were posted on social media following the announcement of the stalwart's death with Manic Street Preachers tweeting: "Was lucky enough to spend time with Tony Benn... humbling - a total inspiration" in relation to bassist and lyricist Nicky Wire's discussion with him about the pop music and "how to remain inspired in a cynical age".
Meanwhile, Newport West Labour MP Paul Flynn said: "It was a heart sinking moment for lovers of parliamentary debate. We feared the worst. The best orator in the House announced that he was leaving to 'spend more time with politics'.
"The Commons was bereaved in 2001 by the departure of Tony Benn.
"Twelve years after leaving the Commons, Tony's promise of ceaseless campaigning has been fulfilled. The Commons' loss has become a gift to progressive politics. His enthusiasm, curiosity and passion for noble causes are prodigious."
Plaid Cymru parliamentary leader Elfyn Llwyd MP said Mr Benn's death was a huge loss to politics.
He added: "Some years ago I had the honour of judging the Channel 4 Political Book Awards and took part in ensuring that he was presented with a lifetime achievement award for his work.
"He was a man of strong principles and stayed true to them throughout his life."