Tax and borrowing powers for Welsh government move closer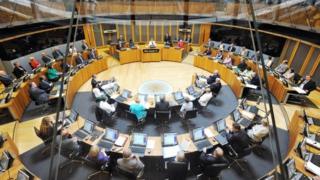 Plans to give the Welsh government the power to raise some of the money it spends have moved a step closer.
UK ministers introduced into Parliament legislation to devolve some tax varying and borrowing powers to Wales.
The Wales Bill is expected to be debated by MPs early next month.
The Welsh government said it looked forward to working with UK ministers in the coming months to "establish a better funding settlement for Wales within a strong UK".
UK ministers believe introducing the bill before the final Queen's Speech of this parliament signals their determination for it to become law before next year's general election.
The bill would give the Welsh government control of stamp duty land tax and landfill tax, and pave the way for a referendum on devolving some income tax.
A "lockstep" restriction - where tax rates would all have to rise or fall by the same amount - on the Welsh government's ability to vary income tax rates, proposed in the draft legislation and criticised by all four party leaders in the assembly, has not been dropped from the bill.
'Powerful tools'
Welsh Secretary David Jones described the introduction of the legislation as a "major milestone in Welsh devolution".
"The package of tax and borrowing powers it devolves to Wales should be used by the Welsh government to grow the Welsh economy, give Wales a competitive edge and help the people of Wales feel more secure about having a better future.
"The swiftness by which we have introduced this bill is testament to this government's desire to see the bill passed before the end of this parliament, and provides the opportunity for devolved governance in Wales to be fairer, more accountable and, crucially, more able to support economic growth."
Chief Secretary to the Treasury Danny Alexander said the financial powers would provide "powerful new tools for Wales to exercise greater control over its future".
Welcoming the bill, Welsh Finance Minister Jane Hutt said: "I am pleased that the UK government is continuing to make good progress in legislating to deliver new financial powers and responsibilities to Wales.
"We have secured important improvements to the draft bill by working collaboratively with the UK government."
Assembly Presiding Officer Dame Rosemary Butler welcomed some changes since the bill's draft version was published, but repeated her call for more assembly members, saying it was "not about lightening members' workloads".
"It is about making the assembly an even stronger force for democratic scrutiny," she said.
"When government ministers put forward new policies, laws or expenditure, it is vital that members have the time, expertise and knowledge to challenge those proposals robustly."
'Sharpen minds'
Plaid Cymru said its aim had been to "preserve the integrity" of the Silk Commission's original recommendations on tax and borrowing powers for Wales, and it was "disappointing" to see they had been "cherry-picked".
Plaid MP Hywel Williams said: "We will aim to put this right by tabling amendments to the Wales Bill with a view to scrapping the lockstep, a roadblock that would limit the Welsh government's income tax varying powers and was not part of the original recommendations.
"We will also seek to amend the bill so that Air Passenger Duty is devolved to Wales, as per the Silk Commission report."
Welsh Liberal Democrat leader Kirsty Williams said tax varying powers would bring "much needed accountability" to the political system in Wales.
"It will sharpen minds in Cardiff Bay and bring the same level of accountability to Wales that exists in almost all other national parliaments," she said.