Bridgend council to consider pay freeze alternative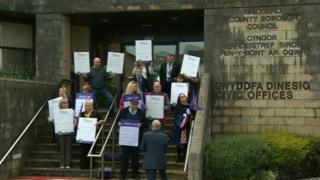 A council has agreed to consider other options to its proposed pay freeze for all staff except the lowest paid.
The plan by Bridgend council sparked a row as it is the only authority out of the 22 in Wales which has not negotiated pay rises with unions as part of the National Joint Council for Local Government Services.
It said the move would save £1m and help protect jobs and services.
But the two sides have now met to discuss a way forward.
In a joint statement the council, and Unison, Unite and GMB unions, said: "At the meeting, the council agreed to consider a number of alternative ideas put forward by the trade unions for achieving the savings.
"These alternative ideas are currently being compiled and once submitted will be carefully analysed by the council in greater depth."
This year other councils have offered all staff a rise of 1%, and the lowest paid a slightly higher rise.
But Bridgend has decided to make its own offer of 1% to staff on grades one and two who are earning less than £14,880, and a pay freeze for everyone else.
Unison claims the proposal will "set the ball rolling on regional pay, the very same policy that the Labour party is opposed to".
The council, which needs to save £36m in the next few years, currently spends 68% of its £225m budget on wages.