Wales unemployment stabilises at 6.8%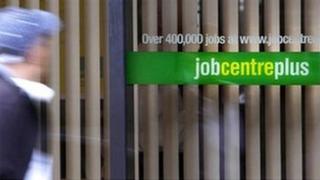 The unemployment rate for January to March in Wales was 6.8%, the same rate as last month, and the UK as a whole.
Figures published by the Office of National Statistics show the rate in Wales fell by 0.3% percentage points on the previous quarter.
There were 18,000 fewer people in employment in Wales in the three months to March compared to the last quarter.
But there were 8,000 more people in work compared with the same period in 2013.
The number of working age people who are neither in work nor looking for work has increased by 20,000 or 4.5% on the previous quarter.
'Promising news'
The figures also show that Wales and the West Midlands are the only areas in the UK where the number of people in work or looking for work has fallen compared with the same period last year.
Responding to the statistics, First Minister Carwyn Jones said: "These latest figures show the labour market in Wales continuing to improve."
Welsh Secretary David Jones is was "very promising news".
He said: "There is evidently still much to do, but there is a raft of measures in place to tackle the issues at hand, as well as helping to boost growth opportunities across the nation."