Independent review of health watchdog announced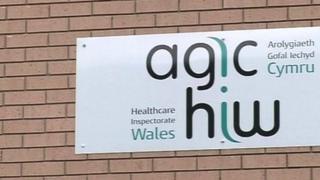 An independent review of Wales' health watchdog has been announced by Health Minister Mark Drakeford.
He said it would be carried out with the view to strengthen the role of Healthcare Inspectorate Wales (HIW).
It follows the assembly's health committee warning in March that a lack of clarity over HIW's role meant it had not established itself as an authoritative regulator.
Former Older People's Commissioner for Wales Ruth Marks will lead the inquiry.
"Ten years after its creation, and now with a very different set of legislative powers available to the national assembly, the time is right for a fundamental review of HIW to reform, develop and improve its regulatory and inspection functions," Mr Drakeford told AMs on Wednesday.
"In the decade of its operation HIW has, undoubtedly, acquired a series of additional responsibilities.
"The review will consider whether its remit is, now, sufficiently coherent and look for ways in which it can be streamlined and strengthened."
In March, the health committee report called for a "fundamental review" of HIW, that inspects and regulates all healthcare in Wales.
'Lack of clarity'
In its evidence to the committee, HIW said it could not give "strong assurances" that a situation like the Mid Staffordshire hospital scandal was not happening in Wales.
The Francis report, in February 2013, highlighted the "appalling and unnecessary suffering of hundreds of people" at Stafford Hospital which may have contributed to subsequent deaths.
HIW also told the committee of AMs that staffing issues meant it could not deliver "sufficient coverage".
The health committee's key conclusion was that it did not receive the reassurances it wanted to hear about the role of HIW in ensuring that healthcare providers are examined properly, meet basic standards, and face sufficient intervention when basic standards are not met.
The report added: "Furthermore, the committee did not receive reassurances that the purpose and role of HIW has been defined sufficiently to provide a clear, robust and understood inspection and regulatory regime.
"It is our view that this lack of clarity has undermined HIW's ability to establish itself as an authoritative regulator."
Welsh Liberal Democrat leader Kirsty Williams said: "Many hospitals in Wales are only being inspected every three or five years.
"The report makes clear that the current system of inspection in Wales is not fit for purpose.
"Clearly this is not a situation that can continue. We need a hospital inspection system that keeps the people of Wales safe."
HIW welcomed the review.