Union 'ideology' holding back cuts talks, say councils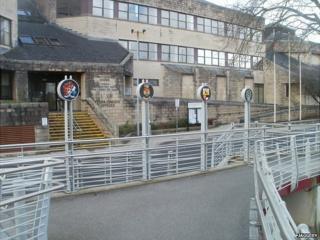 Some unions' ideological stance is holding back discussions on dealing with spending cuts, said the head of the body representing Welsh councils.
WLGA chief executive Steve Thomas said opposition to changes to staff terms and conditions was a real problem.
Council funding has been cut this year by 3.9% in cash terms and 5.8%, after allowing for inflation.
The Unison trade union said workers needed protection, as there was "no end to austerity in sight".
Further reductions in councils' spending power are expected next year.
Mr Thomas said unions had to accept that this would affect local government staff.
He was speaking to BBC Wales on the eve of the WLGA's annual conference in Llandudno.
"We need to sit round the table (with the unions) and have some fundamental discussions about the way forward," he said.
"That will take an approach different from the business-as-usual approach we've currently got.
"The scale of the challenge is huge. People can help us along this road, or they can stand in front and say that no change can occur.
"We have this ideological stance from a number of the trade unions.
"They want to fight austerity, keep all members in employment, and do not want to see any diminishing in terms and conditions.
"Frankly we are not going to be able to achieve that in the next period."
Earlier this year, Bridgend council dropped a plan to freeze the pay of most staff after opposition from Unison, the GMB and Unite.
Unison is also opposing a proposal from Cardiff council to cut staff working hours from 37 to 36 hours a week.
Mr Thomas said action like that made things difficult for council leaders.
"It's a real problem for us because we've got this huge countervailing pressure," he said.
"We totally understand where the unions are coming from.
"They want to protect their members' terms and conditions and jobs.
"Yet we've got cuts so big that frankly in a sector that employs 150,000 people, it is those 150,000 that are a major cost.
"As a result of that we either talk about diminishing numbers, unfortunately voluntary or compulsory redundancies, or we talk about flexibility and terms and conditions.
"We can't keep the current configuration that we've got around the workplace, that's not going to work."
'Filling gap'
Responding, Unison head of local government Dominic MacAskill said the union had "sat round the table and had difficult discussions".
"We fully appreciate the need for our members to work flexibly and collaboratively because we can protect services by making the workforce more efficient," he said.
"But with no end to austerity in sight, workers also need protection.
"Too many mainstream politicians simply accept austerity. Trade unions are filling that gap."