Warning Welsh council mergers would be a 'disaster'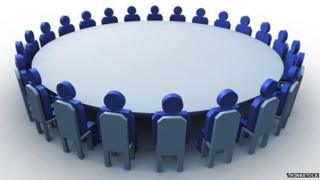 Big reductions in the number of Welsh councils would be a "disaster", an ex-Labour council leader has warned.
Welsh Labour's executive committee extended a consultation period over the issue at a meeting on Saturday.
An independent commission, in January, recommended the 22 councils should be roughly halved.
But former leader of Bridgend Jeff Jones said council leaders were "struggling" with cuts and the idea mergers would help was "nonsense".
First Minister Carwyn Jones has called for substantial reductions in council numbers, insisting no one is in favour of the current set-up.
Lesley Griffiths, the minister responsible for local government, told last Thursday's Welsh Local Government (WLGA) conference she wanted "profound" changes to the way authorities work as a result of the reforms.
Any agreement within the Labour Party would need be approved by the Welsh government.
Ministers need cross-party support at the assembly to force through changes, but are also encouraging councils to merge voluntarily.
Jeff Jones, now a local government consultant, told BBC Wales: "I think it's going to make a crisis into a complete disaster.
"I think this is where local authority leaders are really pulling their hair out.
"They're really struggling to make the cuts, and this idea that, somehow, mergers will make things better is complete nonsense.
"Even if in the long run you save money, in the short term you need money up front to make it work, and what is the long run?"
Further consultation
WLGA leader Bob Wellington, also Labour leader of Torfaen, told last week's conference that councils should be more involved in the debate about council reorganisation.
He said that after the publication of the Williams Commission's report five months ago, everyone within local government had expected to be involved in the debate.
"But this dialogue has not materialised," he complained.
Following the executive meeting, a Welsh Labour spokesman said: "The Welsh Labour executive committee today considered the Williams Commission's map of 12 local authorities - with Swansea, Carmarthenshire and Powys as they currently are - and will conduct a further three-month period of consultation within the party upon the map.
"We invite proposals for any worked up alternatives during that time."