Poll: Carwyn Jones's rating slips but he stays in front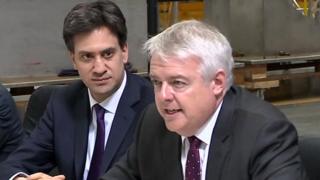 The popularity of First Minister Carwyn Jones has slipped over the past 11 months, a YouGov poll indicates.
But, according to the survey, he remains the most popular political leader with Welsh voters.
Amongst people with an opinion, Plaid Cymru leader Leanne Wood came second, followed closely by Welsh Liberal Democrat leader Kirsty Williams.
Labour leader Ed Miliband came fourth and UKIP's Nigel Farage fifth, ahead of David Cameron in the poll.
The survey was conducted for Cardiff University's Wales Governance Centre.
The leaders received the following average scores out of ten, compared to July 2013:
Carwyn Jones 4.6 (down 0.5)
Leanne Wood 4 (up 0.5)
Kirsty Williams 3.9 (up 0.4)
Ed Miliband 3.7 (down 0.7)
Nigel Farage 3.5 (up 0.4)
David Cameron 3.4 (up 0.4)
Andrew RT Davies 3.2 (up 0.2)
Nick Clegg 2.7 (down 0.2)
Writing on his elections in Wales blog, Prof Roger Scully of the governance centre said Mr Jones's popularity had "slipped notably" but he was still "by some way" the most popular party leader in Wales.
With the poll indicating Kirsty Williams ratings are well ahead of Nick Clegg's, Prof Scully observed "her personal ratings continue to be the one vaguely positive aspect of public attitudes towards her party in Wales".
"Indeed, for her to be scoring so relatively well, given the generally awful political context facing her party, is little short of astonishing," he said.
Prof Scully described the rise in Leanne Wood's popularity in the survey as "close to astonishing, too".
"Her rating has improved more than that of any other leader since last year, and on the evidence of this poll she is now the second most popular of all the party leaders in Wales," he said.
He added that the poll's finding that Ed Miliband's rating was little better than those of the Conservative and UKIP party leaders was a "pretty damning indictment of Miliband's failure over recent months to portray himself to the public as a credible alternative prime minister".
A Welsh Labour spokesman said the figures "confirm that Carwyn is by far the most popular party leader in Wales".
"He was elected on a promise to be a Welsh Labour leader for the whole of Wales, and these figures show that he's clearly honouring that promise.
"There is no evidence of the other parties making any meaningful headway in terms of impact or popularity."
On Ed Miliband, the spokesman added: "Just as Carwyn remains the most popular leader in Wales, Ed Miliband is the most popular leader for Westminster."
YouGov interviewed 2,270 adults between 2 - 15 June 2014. The survey was carried out online. The figures were weighted to be representative of all Welsh adults (aged 18+). The margin of error is plus or minus 3%. Further details on YouGov methodology is available here.