'Edwina Hart broke ministerial code' claims NHS chair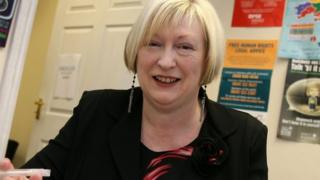 Fresh allegations have arisen over possible breaches of the ministerial code in Wales.
Edwina Hart, as health minister in 2007, asked an NHS chairman to provide information concerning fellow AMs.
It follows the sacking of Environment Minister Alun Davies last week over requests for private financial data.
But the Welsh government said Ms Hart's email was sent seven years ago and linking the two incidents was "completely ridiculous".
Mr Davies was fired last week for putting pressure on officials to find him details of the subsidies, which were private.
Elfed Roberts, who chaired the North West Wales NHS Trust between 2005 and 2009, said Mrs Hart, now transport minister, wanted to be kept up to date with all operational issues that may raise political, media or public interest.
He kept the email because he felt it was inappropriate and has written to First Minister Carwyn Jones.
"I fail to see that this is very different to the situation you have just dealt with involving Alun Davies," he wrote.
"Here was a requirement on behalf of the health minister from one of her key NHS regional directors (Derek Griffin) which would have meant serious breaches of patient confidentiality, breaching confidentiality entered into with assembly members and members of parliament, as well as possible misuse of data under the Data Protection Act."
An spokesman for the Welsh government said: "The email from seven years ago refers to a request for information on operational issues relating to the NHS.
"Any attempts to draw a comparison with the events of the last week are completely ridiculous."
But Conservatives say the email is proof Mr Davies' case was not an isolated one.
Shadow Health Minister Darren Millar said: "This appears to be yet another shocking example of a Labour minister attempting to obtain confidential information for political reasons.
"It amounts to a breach of the ministerial code and it is proof that this kind of unacceptable action is not confined to just one minister or department."
He wants the first minister to investigate.