North-south air link inquiry 'superficial', says AM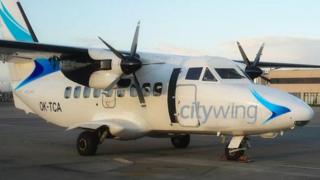 A member of an assembly committee that investigated the subsidised air link between Cardiff and Anglesey has warned the inquiry was 'superficial'.
Committee chair Darren Millar said the air service was underperforming.
But Labour AM Mike Hedges said Mr Millar 'took a huge liberty' with the conclusions he announced on Tuesday.
All committee members agree to sign-off reports, but chairs make further comments on publication. Mr Millar is not commenting on the criticism.
The Welsh government spends £1.2m each year subsidising the Cardiff-Anglesey air link, running since 2007 and currently operated by Citywing and Links Air.
The Public Accounts Committee (PAC) heard that the service carried just over 65,000 passengers between May 2007 and April 2013, at an estimated cost to the taxpayer of £9m.
Passenger rates have fallen by 43% since their peak in 2008-09, with flights available twice a day on weekdays but there is no service at weekends.
When the PAC report on the service was published on Tuesday, Mr Millar said: "The committee remains concerned that this service is underperforming when it comes to providing value for money for the Welsh taxpayer.
"The lack of reliable, independent data about passenger numbers, including the types of people using the service must be addressed.
"The committee also believes that, if the service is to continue with public funding support, a strong marketing campaign should be part of any contract awarded."
On Wednesday, Mike Hedges said the comments by Mr Millar, Conservative AM for Clwyd West, were not justified.
"It was a very simplistic and superficial inquiry and report," Mr Hedges said.
"In the press release for the report the chair of the committee Darren Millar said the service is underperforming and isn't value for money.
"We actually don't know that. We had nothing to compare it with.
"The chair has taken a hugely liberty in the way he's interpreted the report."
'Too much'
Mr Hedges said the committee "didn't do everything necessary for a proper inquiry" because it only spoke to government officials and one consultant.
"The problem with the Public Accounts Committee is we try to do too many reports too quickly.
"Darren Millar is trying to make us do too much," he complained.