Barnett, lockstep, devo max - devolution buzzwords decoded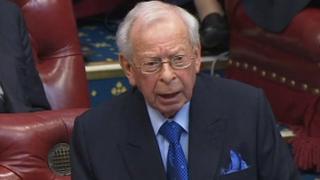 The future of the United Kingdom has become a key political issue for the main parties following the Scottish vote rejecting independence in 2014. But what do terms like the West Lothian question and Devo max actually mean?
Here we try to decode some of the devolution buzzwords.
Barnett Formula
Not the means by which the UK Treasury allocates annual budgets for the various governments and assemblies, but a way of allocating extra cash - or cuts - if spending plans change during the year.
Broadly speaking, if the UK government wants to spend an extra £100m on education in England - which is fully devolved - Scotland, Wales and Northern Ireland are entitled to extra cash, based on the relative sizes of their populations.
In this case, Wales would get around £6m, Scotland £10m and Northern Ireland £3.5m. The cash sum falls if it's a department that still has some responsibility for spending in Wales, such as transport.
Politicians in Wales claim the formula is over-generous to Scotland and Northern Ireland, and believe it short-changes Wales by up to £300m a year.
They're calling for extra cash to be based on need, not population size, a call backed by the man the formula is named after, the late Lord (Joel) Barnett.
In his later years, the former Labour minister said he felt it was an "embarrassment" to still have his name associated with what he says was a short-term fix before the first votes on devolution in 1979 - he recommended it be scrapped as being no longer fit for purpose.
Barnett Plus
A new, improved formula proposed by Labour's former Shadow Welsh Secretary Owen Smith to tackle what Welsh politicians call the underfunding of Wales by the Barnett Formula. The Liberal Democrats have also voiced their wish for a new take on Barnett, pledging to top up Welsh funding.
Devo max
Once proposed as a third option for Scottish voters in the referendum, a model of powers stopping short of independence, possibly with everything being devolved except defence and foreign affairs.
The three main UK parties all promised more powers to help sway Scottish voters against independence when it looked like the result could go that way, and the SNP has vowed to fight to ensure they keep their word.
Lockstep
Moving together, referring to a mechanism ensuring all income tax bands change by the same amount, as proposed for Wales by Prime Minister David Cameron following Silk 1 (see below).
It means that if a future Welsh government wanted to raise the top rate of income tax by 2%, they'd have to raise the basic rate and lower rates by 2% as well, limiting any scope for redistribution of wealth from rich to poor.
The lockstep prompted a row within the Welsh Tories and shadow cabinet sackings by leader Andrew RT Davies, who felt the lockstep was too restrictive.
The sacked spokespersons - who backed the UK party line - were later reinstated.
The restriction has now been dropped from the limited devolution of powers over income tax outlined in the latest Wales Bill.
Silk 1 and Silk 2
Proposals for further devolution for Wales from a commission led by the senior civil servant Paul Silk, set up by Cheryl Gillan when she was the UK coalition government's first Welsh Secretary,
Its first report - Silk 1, in 2012 - recommended giving Wales a range of tax and borrowing powers, backed by David Cameron and set to become law when the Wales Bill passes through Parliament.
A second report - Silk 2, in 2014 - called for areas such as policing, youth justice and some more of the larger energy projects to be devolved to Wales. But that wasn't its most radical suggestion...
Reserved powers
The second Silk report recommended that everything should be considered devolved to Wales unless legislation said it wasn't.
This could reduce the confusion as to whether Wales or Westminster has responsibility in areas like farm wages or making employers liable for the medical costs of treating asbestos in their workers, both of which have been referred to the Supreme Court for a verdict.
The idea has been accepted by the UK government in its latest Wales Bill, although there has been bitter argument over whether the list of powers reserved by Westminster is too long.
West Lothian question
Coined by former MP Tam Dalyell in 1979 at the time of the first referenda on devolution, named after the Scottish seat he represented.
He asked whether a Scottish MP should have the right to vote in the House of Commons on issues affecting only England, when English MPs would have no say over policies followed by a Scottish Parliament.
This is behind David Cameron's call for "English votes for English laws", raising questions from First Minister Carwyn Jones over whether the House of Commons sits as two, three or four different parliaments depending on how many nations are covered by the issue being debated.