Welsh powers discussed for Liberal Democrats manifesto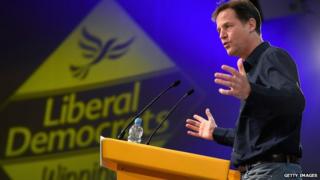 Transferring more powers to Wales and how that fits into its general election manifesto will be under the spotlight at the Liberal Democrats' conference.
The issue is set to be debated on Tuesday - alongside the Barnett Formula, which is how the Treasury distributes money to UK nations.
It follows the suggestion by party leader Nick Clegg they should aspire to deliver home rule to Wales.
He said the devolution "journey" was "exciting".
The debate on the transfer of more powers to Wales, along with Northern Ireland and Scotland, will be led by Yeovil MP David Laws, who is chairman of the party's manifesto group,
Its conclusions will form the basis of the party's manifesto for general election next May.
'Exciting journey'
The discussion in Glasgow comes a day after Mr Clegg told delegates during a question and answer session: "I think we're part of a really exciting journey across the United Kingdom now of further devolution powers everywhere - but most especially and certainly including Wales."
But on the Barnett Formula he said: "Everybody believes the Barnett Formula is flawed, but nobody actually seems to come to an agreement as to what is better to improve it.
"So I think people have rightly said that the Barnett Formula should remain in place, but that does leave a big problem, bluntly, for Wales, because I don't think Wales is fairly served by the funding formula at the moment.
"That's why we have agreed as a party that we'll find a separate financial solution for Wales - even as Barnett continues to be the formula by which finances are distributed elsewhere in the United Kingdom to address those very particular concerns for Wales."