Welsh income tax restriction plan is abandoned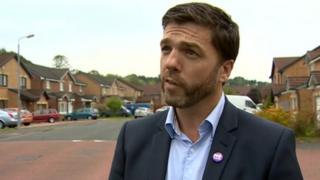 A plan to restrict new tax powers for the Welsh government has been abandoned by UK ministers.
Under the Wales Bill, income tax could be varied in Wales - if there was a Yes vote in a referendum.
Ministers had previously insisted on a "lock-step" system, to stop Wales altering individual tax bands.
But on Tuesday they published amendments to the legislation which would allow the Welsh government to set different rates for each band.
The new proposals will be debated in the House of Lords next week.
Welsh Secretary Stephen Crabb described the new income tax powers as a "tool" that could boost the economy, create more jobs and raise living standards, if they were "used correctly".
"But I have always believed these tax powers need to be flexible, which is why we are now removing the lock-step restriction on how the powers are used," said Mr Crabb.
Under the existing plans, if the Welsh government decided to cut the basic rate by 1p, it would have to cut all other rates of income tax by 1p too.
But the amendments would remove that restriction.
First Minister Carwyn Jones has said the restriction would make the system "pretty much useless" and it caused a split in the Conservative assembly group.
'Rally behind'
The UK government's announcement came as Plaid Cymru said it would table its own series of amendments to the Wales Bill.
As well as removing the lock-step, party leader Leanne Wood said the changes would "move towards giving the people of Wales parity with what's being promised to the people of Scotland".
The proposals include expanding the areas devolved to Wales and giving the Welsh assembly the right to hold binding referendums, control over assembly elections and the ability to decide the number of AMs.
"Plaid Cymru will not allow Wales to be side-lined in the current debate about rebalancing and creating a fairer Britain and we will not settle for third-rate devolution," said Ms Wood.
Meanwhile, ahead of a meeting between the four party leaders in Cardiff Bay on Wednesday, Welsh Liberal Democrat leader Kirsty Williams said an agreement on further devolution was urgently needed.
She said she hoped the meeting would produce a motion on extra powers that the whole assembly could rally behind.
In the wake of Scotland's independence referendum, she said it would be "a lot harder for Westminster and Whitehall to resist a call that's coming from all party leaders and has the backing of the assembly".