Daytime ban on alcohol at Welsh assembly is announced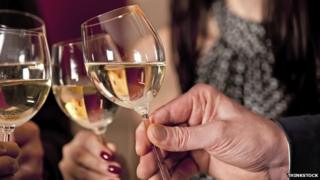 Alcohol will no longer be served or sold at the Welsh assembly before 6pm, the institution's most senior civil servant has announced.
Assembly Chief Executive Claire Clancy revealed the plan in a letter to AMs.
The assembly commission, the body in charge of the Senedd building, said the decision was taken after discussions with party leaders.
It follows claims in June that Tory AM Nick Ramsay was drunk in the assembly chamber - claims he strongly denied.
A member of the public complained about Mr Ramsay's demeanour and delivery during a debate on mental health services.
An assembly spokesman said later that the circumstances had been "looked into thoroughly" and no further action would be taken.
Until now, AMs have been able to have alcohol in the members' tea rooms and at functions held around the assembly building during the day.
'Important decisions'
In the letter, Ms Clancy said: "I am emailing to make you aware that new arrangements are being introduced for the serving of alcohol with effect from today.
"No alcohol for consumption on the assembly estate will be sold or served by our licensees before 6pm during the week in term time."
In a statement, the assembly commission added: "As with most organisations where important decisions are being made, and following discussions with party leaders, we no longer allow our licensees to serve alcohol before 6pm during the working week."