High public sector pay 'should be published', AMs say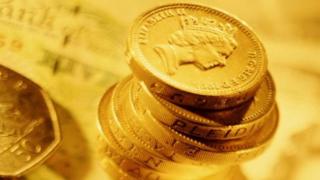 The public should be told how many public sector staff are paid more than £100,000 a year, assembly members have said.
The Public Accounts Committee found that different bodies followed different rules in deciding which salaries to make public.
It wants organisations to reveal the number of staff earning over £100,000 grouped in salary bands of £5,000.
The AMs said it would result in better scrutiny and more consistency.
High pay in the Welsh public sector has long prompted political controversy.
Last week the Wales Audit Office (WAO) insisted a proposed £330,000 pay-off for Pembrokeshire council's chief executive Bryn Parry-Jones was cut by £52,760.
The Public Accounts Committee said Mr Parry-Jones's salary was £194,661 in 2012-13, significantly higher than the prime minister's pay.
But the chief executive of Abertawe Bro Morgannwg University Health Board was paid even more, at £200,000.
AMs said the disclosure rules should also apply to social housing providers that receive Welsh government cash and staff working in higher and further education, alongside those employed in local government and the NHS.
Darren Millar, the Conservative AM who chairs the committee, said: "It was sometimes difficult to make comparisons between pay arrangements between similar organisations and there were inconsistencies across the public sector as a whole.
"We were concerned about these findings, as we believe that it is vital that the information on levels of senior manager pay levels in the public sector should be clear and accessible to the public.
"This will allow for effective scrutiny together with an educated and informed debate about senior management pay to take place.
"To address our concerns we are proposing a suite of recommendations aimed at eradicating the inconsistencies in reporting and ensuring accountability to taxpayers."
The report also said the Welsh government should use local government re-organisation to implement more consistency in council chief executive pay.
It pointed out that Mr Parry-Jones was paid nearly twice as much as Conwy council's chief executive, who earned £105,581.
AMs added that there were "legitimate concerns" about pay-offs for top earners, but said they would look at them in more detail next year following an inquiry by the WAO.