Views sought on services that must be available in Welsh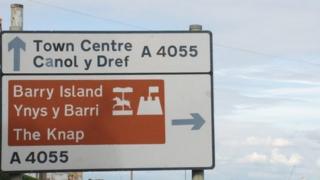 Members of the public are being asked for their views on new rules about which services public bodies have to offer through the medium of Welsh.
The new standards will apply to the Welsh government, councils and national parks, and include ideas such as giving Welsh priority on bilingual signs.
Rules for other public bodies are due next year, with regulations for some private firms to be considered later.
First Minister Carwyn Jones called the new rules "an important milestone".
But language campaigners said the standards needed to go further when they were first announced in January.
Suggestions being considered include making it clear that organisations welcome correspondence with the public in Welsh and ensuring their main switchboard is staffed by a Welsh speaker.
Mr Jones said: "Not only will they create clear legal rights but they will also improve services and provide more opportunities for people to receive and use Welsh language services across Wales.
"In drafting the regulations we have listened to the views of members of the public, to the organisations that will be subject to them and the Welsh language commissioner.
"This four week consultation is a further opportunity for everyone with an interest in the standards to have their say before they are laid before the assembly next March."
The consultation closes on 5 December 2014.