'Floodgates' opened on regional pay in NHS, says Unison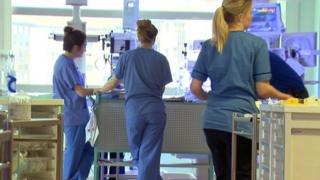 A Wales-only NHS pay offer has "opened the floodgates" to regional pay bargaining in the health service, the main public sector union has said.
The comments from Unison come as Welsh ministers try to resolve their biggest pay dispute since devolution.
NHS staff in England have gone on strike over pay, but action in Wales was suspended after Welsh ministers offered a separate two-year deal.
The Welsh government said its priority was to maintain "frontline" NHS jobs.
Regional public sector pay has long been fiercely resisted by unions.
Since the start of devolution, the UK and the devolved governments have followed the recommendations of the Pay Review Body for the NHS.
But this year the panel recommended a 1% increase which was rejected in England and in Wales.
Ease austerity
A planned strike was suspended in Wales on Monday after ministers in Cardiff put forward a revised offer for this year and the next and which is now being considered by unions.
It includes a 1% rise in salary from next April and the introduction of the living wage for the lowest paid staff from January.
Unison said it would prefer terms and conditions for around 80,000 Welsh NHS staff to be agreed at a UK level.
But it has welcomed the Welsh government's involvement, claiming it will ease the impact of UK ministers' austerity measures.
Dawn Bowden from Unison Wales said: "What has opened the floodgates is that we now have three out of the four nations of the UK which have different pay rates for NHS staff."
Wales, she said, is "generally seen as a low wage economy" and she sees "inherent dangers" from regional pay - the risk Welsh NHS staff could be paid less.
But she added: "We have a government in Wales that we work very well with, that we work in partnership with, and that politically on a lot of areas, particularly around the NHS, we're on the same page with."
In a statement, Welsh ministers said: "We believe the pay offer demonstrates the importance placed on staff by the NHS in Wales.
"Our priority continues to be to maintain jobs at the frontline of NHS Wales, against a backdrop of severe cuts to our budget."
A spokesperson for the First Minister said: "As a Welsh Labour government our commitment has always been to getting a fair deal for our public sector workers.
"We are always open to consider the most appropriate context for that. For example, we are having informal talks with teaching unions about the future of pay and conditions."