Domestic abuse bill should focus on women, AMs say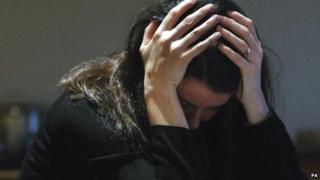 New laws aimed at tackling domestic abuse and sexual violence should stress the fact that the victims are mostly women, AMs have said.
A report also calls for compulsory lessons in school on healthy relationships to help change attitudes.
Campaigners have claimed that a bill about "gender-based" violence could fail to tackle the underlying issues.
The Welsh government has previously said that the content of the bill rather than its title was important.
'Disproportionate'
The report by the assembly's Communities, Equality and Local Government Committee said AMs agreed with inquiry witnesses that the bill should guarantee services for all victims.
But it added that highlighting women as the most likely victims would help ensure services are tailored to the "specific needs" of men and women respectively.
Committee chairwoman Christine Chapman said: "We believe that the Bill should refer to 'Violence Against Women' rather than 'Gender-based Violence' and that this would reflect the disproportionate way in which women are affected by violence and abuse in a domestic setting.
"We also believe that education is critical in changing attitudes and so there should be a provision made for compulsory whole-school, age appropriate education programmes on healthy relationships."
The report added that the impact of domestic violence on children should also be highlighted.
The Welsh government said it would consider the recommendations in a debate scheduled to take place on 25 November.