Welfare benefit sanctions rise 'concern' in Wales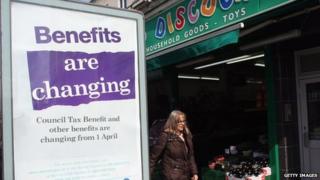 A jump in the number of sanctions given to those who receive a key benefit in Wales is "a concern", a Welsh government minister has said.
Lesley Griffiths said 400 people claiming Employment and Support Allowance (ESA) faced sanctions in June 2014 - up from 150 in a year.
If they fail to follow the strict rules for claiming ESA, benefits can be docked temporarily.
The UK government said sanctions were a "last resort" but also "necessary".
ESA replaced incapacity benefit in 2008 and is intended for people who cannot work due to sickness or disability. Claimants undergo tests, called work capability assessments, before learning whether they are eligible for the payment.
Some of those deemed eligible for the payment are given regular interviews to help them find work, and can be subject to sanctions if they fail to attend a mandatory interview or take part in a work-related activity.
Ms Griffiths said those claiming ESA were bearing the brunt of the sanctions.
'Squeezing income'
She told AMs not only did the number of those seeing payments stopped or reduce go up - a quarter of those decisions were challenged.
Out of those who asked for a review of sanctions, half had the decision overturned and payments reinstated.
"With nearly half of reviewed sanctions found in favour of the claimant, there are serious questions the Department of Work and Pensions (DWP) needs to answer about the way they are being applied," said Ms Griffiths.
The minister accused the UK welfare system of "squeezing the income" of those already struggling to make ends meet.
"Not only are many of these people waiting months for decisions on new disability benefits, they may also be subject to sanctions, which could put their well-being at risk," she added.
"I will continue to challenge the UK government and press for a just welfare system. In the meantime, we are left to pick up some of the pieces left in their wake."
But a DWP spokesman said: "Sanctions are a necessary part of the benefits system with more than 70% of claimants saying they are more likely to follow the rules if they know they risk having their benefits stopped.
"They are used as a last resort in a small percentage of cases and fewer people were sanctioned this year compared to last year, showing more people are now doing all they can to find work."
How claiming ESA works:
Under the welfare regime, anyone applying for ESA benefit must undergo a 'Work Capability Assessment'
During the assessment period, for 13 weeks, ESA is paid at £72.40 if you are over 25
Depending on the assessment, you will be placed in a work-related activity group with regular interviews with an adviser, or a support group without interviews
ESA is worth £101.15 in the work-related group, and slightly more - £108.15 - in the support group
Any claimant in the work-related group can face sanctions if they "fail to comply with the conditions for receiving benefit"
The sanctions can be open-ended until conditions are met - and can effectively mean 100% of the ESA cash payments are halted
The Department for Work and Pensions says a hardship regime was introduced for ESA claimants after December 2012
ESA benefits replaced incapacity benefit, which cost the UK government about £12.5bn annually.
The minister's comments come as the latest figures on deprivation in Wales are due to be published on Wednesday.
The Welsh Index of Multiple Deprivation ranks each area of Wales on how it fares on measures such as ill health, the number of people claiming benefits, housing quality and distance from local services.
Full figures were last published in autumn 2011.