Welsh MPs warning over English votes for English laws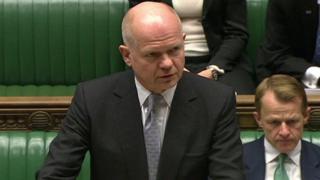 Welsh MPs have warned of the dangers of plans to restrict their say in English matters at Westminster.
Commons leader William Hague set out four options on Tuesday designed to introduce English votes for English laws in Parliament for the sake of "fairness".
Former Welsh Secretary David Jones warned many residents of Wales depended on services in England.
Labour MP Paul Flynn said the proposals could lead to a break-up of the UK.
Mr Hague told the House of Commons devolution had implications for England and that "fairness for all the people of the UK now requires this issue to be dealt with decisively".
English 'veto'
He published a report containing recommendations from both the coalition parties drawn up in the wake of Scotland's independence referendum:
Barring Welsh MPs from any role in English-only bills, and Scottish MPs from bills relevant only to England and/or Wales
Allowing English MPs to have a greater say over the early readings of bills, including in tabling amendments, before allowing all MPs to vote on the final stages
Giving English MPs a veto over certain legislation at committee stage
A Lib Dem plan to establish a grand committee of English MPs, with the right to veto legislation applying only England, with its members based on the share of the vote
The former Tory leader also suggested the Barnett formula - which divides spending between the nations of the UK - would become "less relevant over time" as more tax-varying powers were devolved to Scotland.
'Particular anxieties'
David Jones, MP for Clwyd West, said he was concerned that Welsh MPs could be prevented from speaking or voting on important cross-border matters.
"Large numbers of people in Wales are heavily reliant on services delivered in England, and therefore it would be wholly wrong if the representatives of those people were to be denied a voice on issues that so clearly concern them," he said.
Mr Hague said he realised there were "particular anxieties" about cross-border health issues in Wales, and suggested the definition of an "English law" could be "quite broad" in order to take this into account.
Paul Flynn, Labour MP for Newport West, said the government's plans would increase divisions between the nations and "accelerate the progress towards the break-up of the United Kingdom".
Plaid Cymru MP Jonathan Edwards said the idea seemed "reasonable", as long as Welsh MPs were not stopped from voting on English matters that affect the Welsh budget.
He also called for more "symmetrical" devolution with equal powers for the four nations, claiming it would be difficult to enforce English votes for English laws if MPs had different voting rights depending which nation they came from.