Delay of Chicot inquiry into Iraq war 'offensive', says MP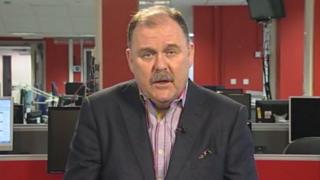 Delaying the report of the inquiry into the Iraq war until after the general election would offend the families of fallen service people, a Plaid Cymru MP has said.
Elfyn Llwyd, the party's Westminster leader, is among MPs pushing for findings of the Chilcot inquiry to be published before the election in May.
He said that "somebody somewhere is sitting on that draft report".
David Cameron said the delay was to give those criticised time to respond.
In the Commons last week, the prime minister said the report was "largely finished" but it was "not within my power to grant the publication of this report".
But Mr Llwyd told BBC Wales's Sunday Politics: "That's not correct. As soon as that report is ready, the timing is up to the prime minister.
"And it seems to me that we've got the whole month of March with very little scheduled for it. We could debate this very important report.
"Failure to do so undermines the credibility of that report and I think it's offensive to those who lost loved ones in the conflict."