MP Hywel Francis's concerns over counter-terrorism bill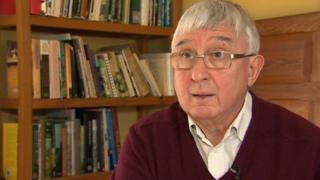 The rights of British citizens could be threatened by the UK government's counter-terrorism bill, says a senior Welsh MP.
Dr Hywel Francis said plans to block terror suspects returning to Britain would violate their human rights.
A bid to make universities stop people getting involved in terrorism would also be difficult to police, he said.
The chair of Parliament's human rights committee said there was genuine public concern over the plans.
'Protecting liberties'
His comments come as Prime Minister David Cameron met security chiefs on Monday to discuss how to defend Britain against terror attacks such as those in France last week.
Mr Francis, who is MP for Aberavon, said the committee realised there were gaps in the government's counter-terrorism powers, but said some of those proposed in the bill required extra safeguards.
He said this would ensure they were not used unreasonably, and individuals affected by them could challenge them where there were grounds to do so.
"Whilst we see the importance of the bill, there's a need also to remind ourselves that the security system is there to protect our liberties, not to diminish them," he said.