Plaid Cymru calls for inclusion in TV election debates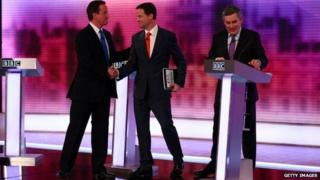 Televised general election debates should include Plaid Cymru, a party member has said.
Plaid AM Rhun ap Iorwerth said "the Welsh electorate were excluded" from the 2010 debates because his party did not take part.
He said Plaid should join the debates along with the SNP and the Greens.
The Labour, Lib Dem and UKIP leaders will ask broadcasters to hold the debates, even if Prime Minister David Cameron refuses to participate.
Mr Cameron said he will take part only if the Green Party is included.
Mr ap Iorwerth told BBC Radio Wales' Morning Call programme: "We've reminded the broadcasters in the meetings that we've had with them over the past few months that they're influential and they've got to take that influence that they have very seriously.
"They've got to take their responsibilities very, very seriously, and that's a responsibility not to Plaid, but to the voters of Wales."