Nigel Farage: Non-voters are turning to UKIP in Wales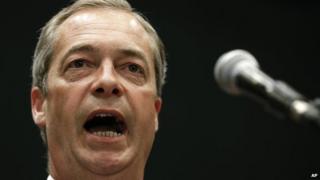 UKIP support in Wales has "surged" because people who have not voted for the past 20 years are turning to the party, its leader Nigel Farage says.
He said politics was changing and UKIP was only 5,000 votes behind Labour in Wales in the last European elections.
With sights set on the general election in May, Mr Farage told BBC Radio Wales that ex-Labour supporters in Wales were also voting for his party.
He added that European money has failed to transform the Welsh economy.
The UKIP leader said he believed being a member of the European Union (EU) had damaged Welsh manufacturing, its fishing industry and small businesses.
"For every one job created in the green economy there have been four jobs lost in traditional manufacturing," he told the Good Morning Wales programme.