NHS winter pressures: Ministers pledge extra £40m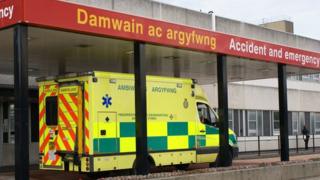 The Welsh NHS will receive an extra £40m to help it cope with winter pressures, ministers have announced.
The money is coming from financial reserves in response to increased demand over Christmas and the New Year.
It comes after claims by a nurse at Cardiff's University Hospital of Wales that the stress faced by A&E staff is worse than she faced on the front line during the second Iraq war.
The extra cash amounts to around 0.7% of the Welsh NHS budget of £6bn a year.
The Welsh Conservatives said health services were "reeling" from cuts and the additional money was "too little, too late".
Latest figures on accident and emergency waiting times in Wales are due to be published on Friday.