£70m spent on enterprise zone jobs in four years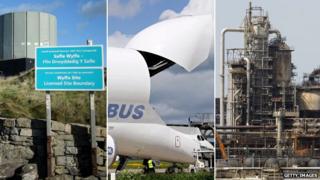 Just over 2,000 jobs have been created and a further 3,000 safeguarded by enterprise zones in Wales, figures have revealed.
Details about the seven zones across Wales were published by the Welsh government after a freedom of information request.
Plaid Cymru had asked for the data but was originally told it could "prejudice" wider economic ambitions.
In total, £70m has been invested in the zones since 2011, supporting 188 firms.
The largest investments have been in the Deeside zone, which includes aerospace industry giants Airbus, Tata Steel at Shotton, and the UPM Shotton paper mill.
The zone has seen £35.3m ploughed into it by the Welsh government, which says has helped create 779 jobs and safeguarded a further 2,484 posts.
At the other end of the investment scale, the Snowdonia zone has received just £150,000 - creating six jobs and safeguarding two. The zone covers the decommissioned Trawsfynydd nuclear power station site and the former RAF Llanbedr airfield near Harlech, Gwynedd.
Economy Minister Edwina Hart announced the creation of the first five enterprise zones in September 2011, with the Snowdonia and Haven Waterway zones were set up a year later.
A Welsh government spokesperson added: "All the Enterprise Zones are making good progress on creating the right conditions to attract investment and jobs in the areas they are based."