Plaid Cymru's rebalancing of power aim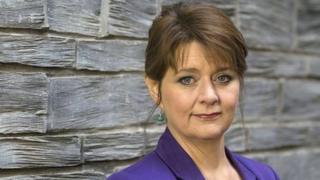 Plaid Cymru would aim to rebalance the UK's power and wealth if the party holds the balance of power after the general election, its leader has said.
The party has aligned itself with the Green Party and the Scottish National Party and hope as a group to hold the balance of power in a hung parliament.
Leader Leanne Wood said it left people with a choice - an anti-austerity alliance or an austerity consensus of the three Westminster parties.
She said cuts had caused deep concern.
Ms Wood told BBC Radio Wales' Good Morning Wales programme that if Plaid did hold the balance of power "we'll do all we can to rebalance wealth and power in the UK - sorting out our funding disadvantage and bringing more decision-making closer to the people".
'Cold War relic'
She said it was vital that "questions of inequality" were "central" in the run-up to polling day in May.
"Inequality and poverty is made and it can be un-made too," Ms Wood added.
The Plaid leader called for the scrapping of £100bn plans to replace Britain's Trident nuclear missile system in favour of supporting hospitals, schools and public services.
Such a move would "put people's lives ahead of weapons of mass destruction", she said.
Plaid Cymru, with its SNP and Green allies, is holding a House of Commons debate on Tuesday calling for proposals to spend billions on a "Cold War relic" to be abandoned.