Trident: Plaid draw 'ambitious' nuclear red line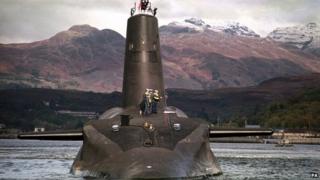 Would Labour support for Britain's nuclear deterrent scupper a post-election deal with Plaid Cymru, the SNP and the Greens?
Plaid Cymru confirmed at the weekend that "in no circumstances would it prop up a government committed to wasting billions of pounds on a Cold War relic which could be better spent on health, education and transport to name but a few".
That seemed clear enough, although one could debate the meaning of "prop up". Does that mean Plaid Cymru would not enter a "confidence and supply" arrangement with a minority Labour government unless it got rid of the Trident missile system?
It is, as we say in this age of coalition politics, a non-negotiable "red line" in any talks after polling day? Would it scupper a deal?
Appearing on today's Daily Politics, Arfon MP Hywel Williams suggested Trident was "an ambitious red line" for Plaid Cymru.
"Trident - we're absolutely against and have been for a very long time. We have a list of things that we want, we'll not go into coalition on the basis of supporting Trident without a doubt."
Former Home Secretary Alan Johnson told the same programme it would be a red line for Labour and, by implication, the Conservatives and the Lib Democrats.
He said: "There is no responsible government that's been in power, I believe, who would ever trade our security as part of a coalition agreement."
It may be "an ambitious red line" for Plaid Cymru but Mr Williams appeared to suggest it wouldn't prevent a confidence and supply deal.
He said: "Confidence and supply is just that, you look at individual issues as you go along. There is room for a negotiation in a confidence and supply basis on individual issues that don't include Trident."
As I write, MPs are currently debating the issue of Trident on a motion tabled by the SNP, Plaid and the Green MP Caroline Lucas.
Many Labour MPs are planning to boycott the vote at the end of the debate because they believe it is a "meaningless stunt". A final decision on whether or not to upgrade Trident is expected next year.
Stunt or not, the result of tonight's vote won't change UK policy but it will demonstrate an election dividing line between the parties (whether it is an ambitious red line or not).