Welsh cancer treatment times improve but target is still missed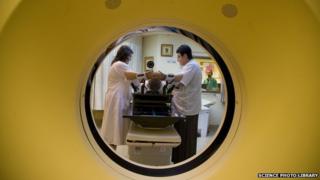 There has been a slight improvement in the number of people being treated for cancer within the Welsh government's target time - although the overall target is still being missed.
The latest figures for November show 89.4% of those diagnosed with cancer began treatment within 62 days.
The target level of 95% has not been reached since 2008.
The previous figure for October 2014 was 85%.
A Welsh government spokesman said: "We have made considerable progress in cancer care in Wales with more people now surviving cancer, even though more people are being diagnosed."
But the Conservative's shadow health minister Darren Millar said efforts to improve cancer waiting times were not helped by Labour's "legacy of record-breaking cuts to the Welsh NHS, which have constrained capacity and heaped pressure on hardworking staff".