Wales devolution 'crowd sourced' debate seeks opinions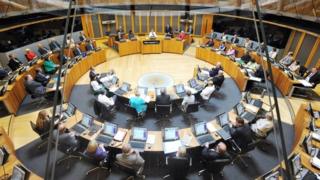 A "crowd sourced" debate on future powers for Wales is being launched to give ordinary people a voice over the nation's political future.
People have sent donations and ideas for discussion topics to the Institute of Welsh Affairs (IWA) think tank.
Director Lee Waters said it was running its own constitutional convention to reach beyond the "political elites".
Welsh control over the economy and the welfare state are among the ideas to be discussed over the next eight weeks.
Hot topics
The IWA said it would seek people's opinions on five key questions:
What is the United Kingdom for?
How do we create a more prosperous Wales?
How do we make Wales a fairer country?
What is the future of the UK?
What is Wales for?
It comes after Prime Minister David Cameron published plans for new powers for the Scottish Parliament.
"We are taking areas where Scotland is getting extra powers and discussing what it means for Wales," said Mr Waters.
"Is there an appetite for us to follow suit? Could our politicians and civil servants cope with extra powers?
"And is the debate over powers the main issue facing Wales, or are there greater issues around performance, capacity and quality that we need to address first?"
Mr Waters said he hoped the discussions would help influence political parties in the run up to May's general election.
He said they were also looking to influence politicians working to an earlier deadline of St David's Day - 1 March for a cross-party agreement on the future shape of devolution set by Welsh Secretary Stephen Crabb.